Psychologist, Public Health Researcher, AIDS Warrior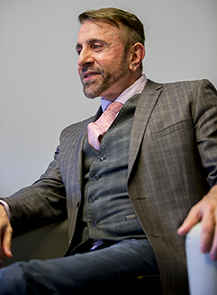 Perry N Halkitis, Ph.D., M.S., MPH is Dean of Rutgers University School of Public Health.
Dr. Halkitis' program of research examines the intersection between the HIV epidemic, drug abuse, and mental health burden, and the biological, behavioral, psychosocial, and structural factors that predispose these overlapping epidemics. CHIBPS (www.chibps.org), the research center he directs, conducts cutting-edge bio-behavioral studies, serves as a training site for the next generation of scholars, and partners with community agencies to conduct studies for and with the LGBT population.
Throughout his career, Dr. Halkitis has been on the forefront, fighting for the rights of those infected with and affected by HIV, as well as being an outspoken advocate for the
health of the LGBTQ population. He is actively involved in all aspects of community building and empowerment through the dissemination and translation of the innovative, timely, and valuable public health research that he and his team at CHIBPS undertake.
Dr. Halkitis has served on the Board of Body Positive and GMHC and is currently on the Board of Directors of The Generations Project, The HIV League, and The New York State Public Health Association.
Dr. Halkitis holds degrees in psychology, education, and public health. Review his full curriculum vitae here.
Educational History
BA (Phi Beta Kappa. Cum Laude), Columbia University;
MS (Kappa Delta Pi), Hunter College of The City University of New York, Education–Human Development and Learning;
MPhil, The Graduate Center of The City University of New York, Educational Psychology;
MPH (Award for Academic Excellence), Public Health–Epidemiology School of Public Health, The City University of New York at Hunter College;
PhD, The Graduate Center of The City University of New York Quantitative Methods in Educational & Psychological Research
Honors/Awards
2016:
American Public Heath Association Alcohol, Tobacco and Other Drugs Section 2016 Community-Based Leadership Award
Hermann M. Briggs Memorial Award, New York State Public Health Association
Delta Omega, Public Health Honorary Society, New York University
2015:
POZ 100 Outstanding Work to the HIV/AIDS Community, POZ Magazine
Psychology and AIDS Leadership Award (Distinguished Leader), American Psychological Association Committee on Psychology & AIDS
2014:


*The AIDS Generation Book has been named a finalist for a 2014 Lamda Literary Award in the Biography/memoir category.
*2014 LGBT Psychology outstanding Book Award for 2014, Society for the Study of Lesbian, Gay, Bisexual, and Transgender Issues, American Psychological Association
*NIH funded Grant: Syndemic Production among Emergent Adult Men (2R01DA025537)
*2014 Outstanding Contributions to Health Psychology Award (Senior), American Psychological Association
*2014 Elected Fellow Elected Fellow, American Psychological Association, Society for the Psychological Study of Men & Masculinity
2013:
New York State Department of Health World AIDS Day 2013 Commissioner's Award
2012:
Translational Research Mentor Award, New York University-New York City Health and Hospital Corporation Clinical and Translational Science Institute;
Star Award, New York University Graduate Student Organization;
Advocate for Community & Wellness Award, New York University, Office of LGBT Student Services Outstanding
2011:
Elected Fellow, American Psychological Association, Division of Health Psychology
2010:
Award for Distinguished Contributions to Psychology in the Public Interest (Early Career), American Psychological Association;
Distinguished Contribution to Education and Training, American Psychological Association Society for The Psychological Study LGBT Issues;
Research to Practice Dissemination Award, Society of Behavioral Medicine;
Award for Student Centered Dedication and Advocacy, New York University, Office of LGBT Student Services
2009:
Elected Fellow, American Psychological Association, Division of Addictions
2007:
Elected Fellow, Society of Behavioral Medicine
2006:
Outstanding Achievement Award, American Psychological Association Committee on LGB Concerns;:
Elected Fellow, American Psychological Association, Division of the Society for The Psychological Study Of Lesbian, Gay and Bisexual Issues
2005:
Elected Fellow, The New York Academy of Medicine;
HIV Prevention Education Leadership Award, The Body.Com
2004:
New York University, Steinhardt School Teaching Excellence Award;
Award for Outstanding Commitment to the Queer Community, New York University, Office of LGBT Student Services
2003
Distinguished Research Award, American Psychological Association Society for The Psychological Study Of Lesbian, Gay, Bisexual and Transgender Issues
2002:
Leadership Award as Emerging Scholar, American Psychological Association Committee on Psychology & AIDS
2000:
Daniel E. Griffiths Research Award, New York University, Steinhardt School
1999:
Wayne F. Placek Research Award, American Psychological Foundation
Professional Positions
Professor of Applied Psychology & Public Health and Professor of Population Health/Medicine, New York University
Associate Dean for Academic Affairs, Global Institute of Public Health, New York University