HIV/AIDS & LGBTQ Health Researcher, Public Health Psychologist, & Community Advocate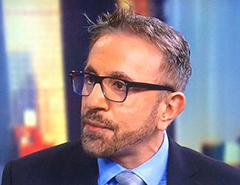 Perry N Halkitis, Ph.D., M.S., MPH is Professor of Global Public Health, Applied Psychology, and Population Health/Medicine at New York University.
He specializes in HIV/AIDS bio-behavioral research studies for gay men, with an emphasis on the intersection of HIV with drug use and mental health burden. Dr. Halkitis works closely with the community on programming and advocacy for gay men's health especially as they relate to HIV prevention and care.
Center for Health, Identity Behavior & Prevention Studies

He also directs the Center for Health, Identity, Behavior & Prevention Studies. Review his full curriculum vitae here.
One of the United States' leading authorities on HIV prevention, his ever-evolving research work focuses on some of the most difficult, intractable obstacles facing HIV prevention today: the complex interplay of drug use, mental health, societal/personal  issues and risk behaviors.
Dr. Perry N.Halkitis is an internationally recognized expert on the intersection between the HIV epidemic, drug abuse, and mental health burden in gay and bisexual men.
Important Topic:
Can New Tools End the AIDS Epidemic by 2020?
NationSwell, August 31, 2016
"In our ongoing series on NationSwell Council members, meet AIDS activist Perry Halkitis, who combined his skills as a researcher with personal tragedy to improve the health of gay men. …" Read Full Article
Why Aren't Gay Men Getting a Vaccine That Can Prevent Cancer?
Broadly, April 3, 2016
"However, Perry Halkitis, the director of the Center for Health, Identity, and Behavior & Prevention Studies at New York University, says there is a …" Read Full Article
Dr. Halkitis' Recent News
Dr. Halkitis named to the board of directors of The HIV League
Dr. Halkitis talks to ACT UP NY about crystal meth use and HIV in gay men
Dr. Halkitis named to the NationSwell Council
Dr. Halkitis receives grant from NIAID to study HPV and HSV infection in sexual minority men
Dr. Halkitis' Upcoming Events
Click Here for Dr. Halkitis' full event schedule
An Interview With Dr. Halkitis